LEDmePlay®
In this LEDmePlay version of the famous game Sokoban you control a humanoid logistics roboter with the joystick and have to clean up 50 different warehouses. Move all boxes (the squares) to storage locations ("X"-positions) to finish a warehouse. Important is that you can only push boxes. It is not possible to pull them. Therefore, it can quickly happen that you find yourself in a desperate situation. No worries, by pressing the fire button, a game menu will open. Here you have the opportunity to take back the last movement of a box ("Undo") or to start the current warehouse all over again ("Rerun").

Before a warehouse is started (except for the first one), a code is displayed which can be entered in the start menu after the title screen ("Code"). You can enter the code with the joystick ("U" = up, "D" = down, "L" = left, "R" = right, "F" = fire button).
Screenshots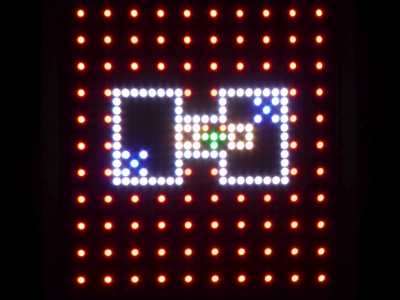 Gameplay
Watch the gameplay of Tetromino on our YouTube channel.

Download
Link to the source code: Warehouse_LEDmePlay_V1_0_0.ino

1
peter
Hi! Thank for this cool new Game. I didnīt understand te meaning of the code which can be entered.
Posted: 2019-04-18, 19:10:27
Previous comments | Next comments
Enter your comment: