LEDmePlay®
You do not have to say a lot of words about this game. Put falling tiles with different shapes together into horizontal lines without gaps. Move the tiles left and right with the joystick and rotate them with a button press. A full line is cleared from screen. The more lines you clear at once, the higher is your score. The game ends when the heap of tiles has reached the top of the playfield.

The display on the left-hand side shows you the current level by the number of red dots and the number of cleared rows within the level by the number of blue dots. The display on the right-hand side shows the next tile which might give you a hint where to place the current tile.

You can select between two types of gameplay. In one-player mode (select '1' in menu to start) type A lets you play continuously. When you have cleared 20 rows, you reach the next level with increased speed. This game type leaves you no breathing space. In type B the playfield is cleared whenever you have accomplished a level. That will give you a short breather!

You can play competitively with a friend in two-player mode (select '2' in menu to start) if you connect two LEDmePlays via an X-link cable. In this case, in type A that player wins who avoids reaching the top of the playfield longer than the opponent (Last Man Standing). In type B that player wins who clears 20 rows faster than the opponent (Race). There is some extra fun in two-player mode. If one player clears more than one row at once, new rows with a gap appear on the other player's screen which makes him sweat.


Screenshots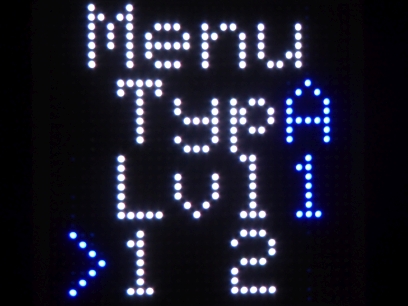 Gameplay
Watch the gameplay of Tetromino on our YouTube channel.

Download
Link to the source code: Tetromino_LEDmePlay_V1_0_1.zip
Tetromino requires the Timer Library V1.3 which must be copied to the Arduino directory on your computer. The path is something as C:\Program Files (x86)\Arduino\libraries.


No comments
Previous comments | Next comments
Enter your comment: